Looking for a unique day out with your class or sports team
The Mini Mudder
Have you heard of The Mudder? Each September hundreds of people take part in this filthy fun event organised and hosted on our farm. You can now do the Mini Mudder any month of the year! The Mini Mudder has been popular with schools, businesses and friends – all after something fun and a bit different. The course involves 3km of beautiful country side to tackle at your own pace, unique obstacles, clues to crack, words to unscramble, a pet tyre to locate and of course some mud. Most importantly The Mini Mudder is about working together as a team and having fun!
This is what Nga Tawa School recently said about their experience: "Thanks to Kylie, Andrew and the team at Rangitikei Farmstay for a great start to the 2018 Nga Tawa leadership day. The girls were challenged to work with each other in unique ways, pushing their limits in a safe, fun environment. The girls loved the challenge, adventure and sense of achievement! The event catered for all, was highly organized and has been put on the calendar for an annual event, I highly recommend it!"  Christine Worsfold, Outdoor Education, Nga Tawa School, Marton.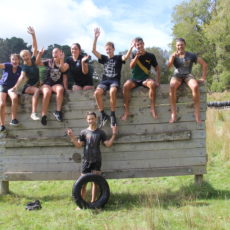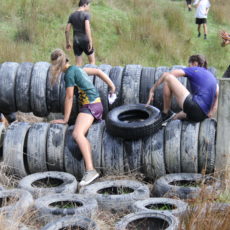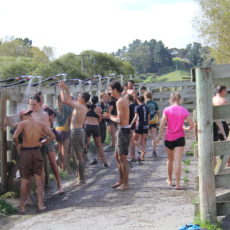 If your class or sports team are up for a challenge, then this activity is for you! Guaranteed to be heaps of fun.
Itinerary example:
9:30am: Arrive at our Woolshed (498 Makuhou Raod, Marton). Parking is located opposite our Woolshed in a large gravel pit area suitable for buses and vans
9:45am: Mini Mudder briefing and warm up to some beats
10am: Start. Teams set off at their own pace.
11:00am: Approximate finish time. Followed by an outside shower and group debrief.
12noon: Enjoy a BBQ lunch or your own packed lunch either at the Woolshed or at the Bunkhouse
Price: $20 per student (available 12 months of the year for year 7's and up). BBQ Lunch $15 extra per head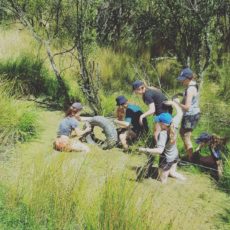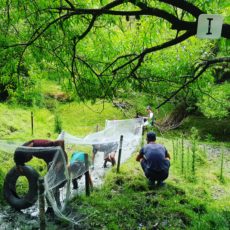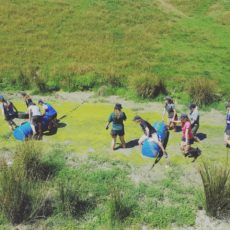 Day Trips
Arrive at the RF woolshed where there is plenty of parking for buses and cars
Enjoy a mustering demonstration where the sheep or cattle are bought in off the hills and into the covered yards. Guests will then enjoy another demonstration where they can get up close and personal with the sheep, see them being drafted or weighted.
Watch a shearing demonstration in our uniquely decorated woolshed. If you are brave, have a go shearing some of the sheep yourself!
Take a farm walk through native bush and over farm land, up to the picnic table where you may experience views of Mount Ruapehu, Mount Taranaki and the ocean
Meet the large range of friendly animals
Enjoy lunch at the RF Bunkhouse which is surrounded by the beautiful gardens
Take a walk through the farm museum and get an understanding of farming and "Tyrones" history having been owned by the Stewart family since 1901
Price: Starting at $40 per head